this is about illegal dumping by the owners and managers of the sunnyside sro hotel at 135 6th street.
the building at 965 mission street has its backside against minna street.  in contradiction of san francisco regulations, the folks who own and manage that building leave their large garbage dumpsters out in the street 24 hours a day, 7 days a week (but that's a topic for an entirely separate blog entry.)  one of the many pitfalls of leaving garbage dumpsters out all the time is that they attract illegal dumpers.
picture it:  minna street, monday, july 12, 2010.  here's a snap of the 965 mission street dumpsters out on minna street at about 11:00 in the morning: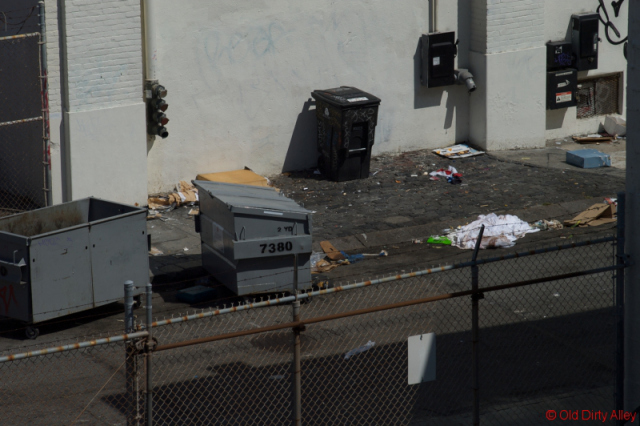 a couple hours later i see a guy walking down the street with a garbage bin in tow.  he stops at the dumpsters and nonchalantly starts to unload his garbage bin into them.  i snapped a couple more photos:
i went outside to see where this guy was coming from/going to; he was returning to the sunnyside sro hotel.  in some ways i feel bad for the guy.  there's no doubt in my mind that his manager told him to take the garbage and ditch it somewhere.  he was "just doing his job".  on the other hand …
i called bullshit and told the manager that if she didn't go pick up their trash immediately that i'd be calling the sfpd.  she sent the same guy back out there, this time to pick up the trash.  here's a video of that (most of the audio has been deleted because there was nothing but wind noise):
best in full screen and at the higher resolutions
yet another incident where sro hotel owners and managers try and offload their expenses and work onto someone else.